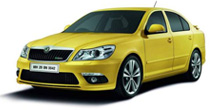 Skoda Laura Ambiente 2.0 Petrol Car Battery
Buy Skoda Laura Ambiente 2.0 Petrol Car Battery Online
Description:
Born in 1895 in the Czech Republic, Skoda Auto is a leading automobile manufacturer in the world. Founded by Vaclav Laurin and Vaclav Clement, the company initially was known as Laurin and Clement, which was acquired by Skoda Works in 1925. The company, from 2000, is now the wholly owned subsidiary of Volkswagen Group. Skoda Auto launched its branch in India in November 2001 titled Skoda Auto India Pvt. Ltd. The headquarters is located at Shendra near Aurangabad, Maharashtra. There are over 106 outlets of Skoda Auto across the country and it has made huge progress since its launch in India. In 2009, Skoda launched face-lifted Laura, and it was for the first time that Skoda offered a petrol engine along with diesel.
Online Price of Skoda Batteries
Skoda Laura Ambiente 2.0 offers you a comfortable ride with its optimized features and an elegant look. If you wish to buy a battery, you should always check
online price of Skoda batteries
on the websites such as
http://www.everyonechoice.com/car-battery/skoda/skoda-laura-ambiente-2-0-petrol.
There're a lot of other websites that offer batteries for Skoda, but you should choose only a trusted merchant like everyonechoice.com. This website offers car batteries at very affordable prices, and the quality of the product is also extremely good. So don't waste time thinking, go and
purchase Skoda Laura Ambiente 2.0 petrol battery online.
After all, maintenance of your car will make you happy and one should never compromise with their happiness.
Need any help
to choose the right
product for you
Feel free to call
our helpline
+91 9999-444-005
SMS on whatsapp chat
+91 9999-444-005