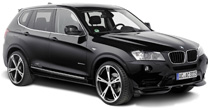 BMW 5 Series 520i Petrol Car Battery
About BMW 5 Series 520i Petrol Car Battery
Description: BMW cars are undoubtedly the best. Every year the new advents of the models are not only mesmerizing people but at the same time, it is soothing the minds too. One of such model is the BMW 5 series 520i petrol. This car has grabbed the market with all the potential. It has lovely features. The features are wide and variant. Some of the lovely features are: central locking, power steering, steering adjustment, electrically adjustable seats, steering mounted controls, rear AC vent, climate control and many more. This sedan car was introduced in the Indian market in the year 2012. People have largely accepted this car because of its amazing features.
Now book your car batteries online
There is good news for you. If you have BMW 5 SERIES 520I PETROL cars then you can now buy the batteries of it from our online service. From http://www.everyonechoice.com/car-battery/bmw/bmw-5-series-520i-petrol you can easily book BMW Car Battery Online. We give you the best services that you will always love. The best part is that, from us you will get the cheapest BMW Car Battery Price in Delhi, India. We give you the best deals that you cannot refuse. Moreover we provide 24/7 assistance for you. Therefore, you should not have to hesitate to contact us. Hurry up and get your deal now.
Need any help
to choose the right
product for you
Feel free to call
our helpline
+91-9999-444-005
SMS on whatsapp chat
+91-9999-444-005