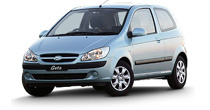 Hyundai Getz Prime 1.1 Petrol Car Battery
Buy Hyundai Getz Prime 1.1 Petrol Car Battery Online
SF Sonic FS 144055LS is highly suggested for cars like Hyundai Getz Prime 1.1 Prime Petrol. The SF Sonic Flash Start has been recommended for many petrol run cars, as they give appreciable performance. The high life expectancy rate due to the high end Japanese technology beats all others. The quality control procedure for manufacturing allows the battery to function under difficult conditions also. Features of the SF Sonic Flash Start Battery-
Withstand extreme conditions- Indian has extreme climate. The SF sonic battery with C21 alloy for Japanese technology allows it to adjust to harsh condition without failing to function.
The battery gives superior ignition capacity
There are protectors in the battery to absorb all the vibrations and shocks
Designed to stop any kinds of coming out of waste residues
Drive smooth on all kinds of roads
For power pact performance choose Hyundai Getz Prime 1.1 petrol.
Need any help
to choose the right
product for you
Feel free to call
our helpline
+91 9999-444-005
SMS on whatsapp chat
+91 9999-444-005