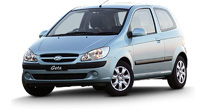 Hyundai Getz 1.3 Petrol Car Battery
Buy Hyundai Getz 1.3 Petrol Car Battery Online
Amaron AAM PR 0055B24LS for Hyundai Getz 1.3 Petrol is mostly suggested. Along with Hyundai Getz 1.3 petrol there are other Hyundai and other brand cars which choose these batteries. The power of the battery makes it a renowned choosing option for all the car owners. Features for which it makes it a popular choice –
Factory charge – no requirement of charging before usage.
Battery power usage is very low
Low maintenance – as there is no requirement for maintenance installing Amaron AAM battery is one time investment
Extended warranty
In spot battery change warranty by company if user face any problem
Instant cracking on turning on ignition button
Adaptability to high temperature and extreme climatic condition
Shock absorption by the battery
Comfortable riding as there is no vibration
Choose Amaron AAM for best riding experiences and best value for money.
Need any help
to choose the right
product for you
Feel free to call
our helpline
+91 8745-892-892
SMS on whatsapp chat
+91 8745-892-892