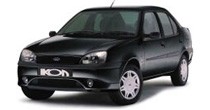 Ford New Ikon 1.4 Diesel Car Battery
Buy Ford New Ikon 1.4 Diesel Car Battery Online
The best battery one can buy for Ford New Ikon 1.4 Diesel is the Exide Mileage DIN34LH43AH. With 43AH capacity this battery is the best choice. This battery provides the car with unexpected and unmatched mileage. Swift and smooth driving experienced come assured with the Exide Mileage DIN34LH43AH battery.
Noteworthy featured of Exide Mileage are
Strong design – engineered with great care so as to take care of the minute functioning in the car.
Designing and side vented cover- this prevents from any kind of spillage of chemicals and gasses
Easy and quick Charge of Battery along with detection capability to report the existing charge along with electrolyte level.
Advanced life expectancy with low maintenance
High End Technology to control and perform under extreme temperatures
Easy installation

The pricing and the warranty of the Exide Mileage DIN34LH43AH also make it a popular choice for all people.
Need any help
to choose the right
product for you
Feel free to call
our helpline
+91 9999-444-005
SMS on whatsapp chat
+91 9999-444-005