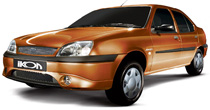 Ford Ikon Old Petrol Car Battery
Buy Ford Ikon Old Petrol Car Battery Online
Ford is the 9th largest automobile manufacturer around the world. Demand for Ford car in India is great. Amaron, Exide and SF batteries are recommended for Ford. The best for Ford Ilon Old petrol car is the EXIDE, FMI0-MI-43RED with 43 Ah capacities. This battery is built keeping in mind the Indian terrain and also Indian climate.
Features-
The battery is covered in such a way to prevent any spill of chemicals and gases which is dangerous.
Strong build up to give better performance, longevity and life
Does not require charge every now and then
Allows view the amount of charge left
Tough designing to withstand rough pathways
48 months of warranty

The power-packed engineering has made it a popular choice among not only Ford buyers but many others who own other models of Ford.
Need any help
to choose the right
product for you
Feel free to call
our helpline
+91 9999-444-005
SMS on whatsapp chat
+91 9999-444-005