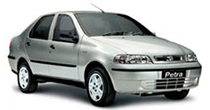 Fiat Petra Diesel Car Battery
Buy Fiat Petra Diesel Car Battery Online
The Fiat Petra Diesel in a sedan class car. Its comfort and design have charmed many people to become a proud owner of this car. For the best performance from this Fiat Petra model the best car battery in none other than the Amaron AAM-FL-550114042 (50Ah). This is from the popular Amaron Flo category, which has been designed especially for Indian climatic condition. India has tough weather and the battery is perfect for your Fiat Petra Diesel to get maximum mileage with great appreciable performance. Other than Fiat Petra this battery is recommended to many other different automobile companies also.
Features
One shot start- this battery gives the power to allow the Petra is start off the very moment the key is turned on.
Supports movement on any kind of roads both maintained as very as tough roads.
Ready usage mode is another added advantage of this battery model.
Need any help
to choose the right
product for you
Feel free to call
our helpline
+91 9999-444-005
SMS on whatsapp chat
+91 9999-444-005