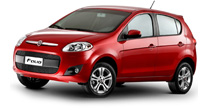 Fiat Palio Diesel Car Battery
Buy Fiat Palio Diesel Car Battery Online
SF Sonic FS1080-DIN50 (50Ah) is the best kind of car battery which you can use of Fiat Palio Diesel. The unique features and high performance has made SF Sonic 50 Ah the best of its kind for the special Palio Diesel model. If you are planning for rough roads then SF Sonic is the best to choose. It performs under rough conditions. It prevents jerks and vibrations. It also ensures smooth and save travel experience.
Specialities-
Zero maintenance- once you install it you do not need any checks regular. Install and forget.
Allows instant ignition and gives freedom of choice for the rider.
Tolerance towards increased temperatures
Prevents sparks and corrosion due to friction because of unique design
Factory charged – no need to waste time of charging for the first time
Warranty – 36 months of warranty by company so that you face no problems.
Need any help
to choose the right
product for you
Feel free to call
our helpline
+91 9999-444-005
SMS on whatsapp chat
+91 9999-444-005