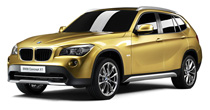 X1 sDrive Petrol Car Battery
About X1 sDrive Petrol Car Battery
Description:
Like the advent of other BMW cars, the year 2009 also witnessed the new introduction of the BMW model. This was X1 SDRIVE PETROL cars, which has totally grabbed then market since then. This car has all wheel configurations. This car has excellent engine power and gives best mileage. It has 1350 liters of storage capacity and has best features as compared to other BMW models. It has a power of six cylinders which provides 300 horsepower. Apart from the engine quality, this car has outstanding interior and exterior features. The wide ranges of features of this car give you a driving experience as never before.
Buy your car batteries online
If you are worried about buying your car batteries then you can simply come to our service. We are known as everyone choice. We give all the facilities to buy BMW Car Battery Online. Our exclusive services are just made for you. for buying the car batteries for X1 SDRIVE PETROL cars you can visit http://www.everyonechoice.com/car-battery/bmw/x1-sdrive-petrol. Here we give best offers and reasonable BMW Car Battery Price in Delhi, India. These facilities are just made for you so that you can get affordable deals and offers for making your shopping affordable. We take care of your choices and hence provide 24/7 service.
Need any help
to choose the right
product for you
Feel free to call
our helpline
+91-9999-444-005
SMS on whatsapp chat
+91-9999-444-005