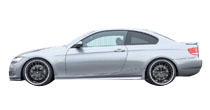 BMW 3 Series 325i Petrol Car Battery
About BMW 3 Series 325i Petrol Car Battery
Description: The BMW 3 Series 325i Petrol was amongst first cars to be assembled at the company's Chennai plant in India. This is a stylish sports sedan that exhibits confidence and power in an elegant yet subtle manner. The beautiful wedge shaped exterior is perfectly designed to create the impression of the flow of expression. At the same time the exclusive interiors offer great comfort and luxury to the passengers to make every ride an enjoyable experience. The car comes fitted with 6 cylinder classic 2497 cc petrol engine that offer great power and acceleration. It is also offers the benefit of excellent handling, superior elasto-kinematics, precise wheel guidance, and stability.
Buy Audi A3 Diesel Car Batteries Online
The BMW 3 Series 352i is a car designed for people who like to travel in ultimate comfort and luxury. Powering this elegant vehicle with the best battery is the key to ensuring a smooth and hassle ride time and again. If you are looking for good quality battery for your BMW 3 Series 325I Petrol car, visit http://www.everyonechoice.com/car-battery/bmw/bmw-3-series-325i-petrol . Here you can buy BMW car battery online from the most renowned brands at the most competitive prices. This means that you no longer need to worry about the finding the retailers offering the cheapest BMW car battery prices in Delhi, India.
Need any help
to choose the right
product for you
Feel free to call
our helpline
+91-9999-444-005
SMS on whatsapp chat
+91-9999-444-005