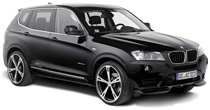 BMW 3-Series 320d Diesel Car Battery
About BMW 3-Series 320d Diesel Car Battery
BMW Car Battery Price in Delhi, India BMW is the first and the last name among all the luxurious cars. You will get all features you have seen in all the cars in this models. The 8 geared BMW 3 SERIES 320D DIESEL car is having the highest speed of 235 KMPH. So, it is not funny at all here. The mileage of the car is also excellent. It is rated around 22.7, considering the highways and the urban streets together. When you consider the highways, the mileage is even better. The automatic transmission car is a surprise of 2015 and is one of the best models of the current year too.
Get online battery from us
We will get from us the perfect online support regarding battery backup. We are having Amaron and Exide batteries and you will get BMW Car Battery Online. You will also get the batteries and other accessory supports from us at BMW Car Battery Price in Delhi, India. So get to us and find the right help from us here http://www.everyonechoice.com/car-battery/bmw/bmw-3-series-320d-diesel . we will give you the right help and aid, with which your BMW will run ideally through the road. So ride the majestic car on the roads and get to us for any support related to batteries. We are happy to help you any time.
Need any help
to choose the right
product for you
Feel free to call
our helpline
+91-9999-444-005
SMS on whatsapp chat
+91-9999-444-005