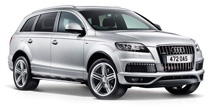 Audi Q7 Diesel Car Battery
About Audi Q7 Diesel Car Battery
Description: The Audi cars have always been people's favorite. People have always loved the features that Audi cars come with. Every year this company has introduced latest models, which has always updated itself to give extra features to people. One of the superb car models is the Audi Q7 diesel. This car has various features which lures people. It has superb engine power. The powertrain is supercharged 333-hp 3.0 liter V-6. This car comes with eight speeds automatic and all wheel drive standard. The best part of this car is the interior facility. The interior of this car is more classy and luxurious. It has features like massaging front seats and twenty-three speaker audio systems. This car is highly fuel-efficient.
No need to worry as you can buy Audi car batteries online
The Audi Q7 model is an outstanding model. If you buy one then you have to take care of its battery. It is always better to buy the car batteries from trusted company. With our service, you will always get trusted service. We give you the opportunity to buy Audi Car Battery Online. To buy your car battery you can simply access http://www.everyonechoice.com/car-battery/audi/audi-q7-diesel. Here you will get cheapest Audi Car Battery Price in Delhi, India. This factor makes your deal easier and convenient. The 24/7 assistance will clarify any of your doubts.
Need any help
to choose the right
product for you
Feel free to call
our helpline
+91-9999-444-005
SMS on whatsapp chat
+91-9999-444-005