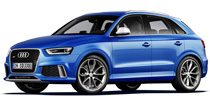 Audi Q3 Quattro Diesel Car Battery
About Audi Q3 Quattro Diesel Car Battery
Description: Audi cars are undoubtedly the best cars. For generations this company has been providing exciting features in its cars. The Audi Q3 Qautrro diesel is one of such models, which comes with abundant features. It is pulled by the 2.0 liter TDI 4 cylinder oil burner. The best part of this car is the engine and interior quality. The engine runs on 174 bhp at 4200 rpm. It has 7-speed dual clutch automatic transmission system. Along with this, the interior of the car is mesmerizing. The large seats and easy functions are made for the comfort of the users. This model has hit the Indian market in the year 2015 and has acquired large numbers customers.
Now buy Audi car batteries online
If you buy Audi Q3 Quatrro diesel cars then you will love to buy high quality Audi car batteries from http://www.everyonechoice.com/car-battery/audi/audi-q3-quattro-diesel. We provide excellent facilities for you and let you Buy Audi Car Battery Online. We give you plethora of options and at reasonable price. We give affordable Audi Car Battery Price in Delhi, India. This makes your deal reasonable and easier. With our service, you will always get best provisions. For having a cost-effective solution, you should call our service. You will never regret on the service that we provide.
Need any help
to choose the right
product for you
Feel free to call
our helpline
+91-9999-444-005
SMS on whatsapp chat
+91-9999-444-005